Romantic Farmhouse Pillows are what I have been working on as of late. When I have my sewing machine set up I sew as much as I can.  I have had so much fun designing original pillows for my Romantic Farmhouse design. Out of vintage fabric. I have found a lovely, shabby, scrunchy, rumpled, ribbon that I just can't put down.
I came across the ribbon on Etsy as I was searching for ribbon to use to create some projects. I fell in love at once with the lovely pastel colors,  it's satin finish with color gold edges and its great price at 12 yards for $8.00 medium width.  Now that's a bargain in my book.
Mary Salaber from Glorie Vintage is the vendor that sales this lovely ribbon. She also has many other items that you will enjoy. Mary mailed them out right away! Great service to!
Here is just one of the projects that I made with the lovely crinkle ribbon. This ribbon is "Pale Pink" in wide. $14.00 for 12 yards.  The ribbon comes in wide, medium, narrow  and starts at only $6.00 for 12 yards. All I did was make a trifold pillow cover, and inserted a 14 X 14 pillow insert,  then I cut a large piece of pink flannel (I already had this, but felt would work as well), in a large circle to fit the pillow cover, starting at the edge I sewed the ribbon around making it ruffle as I went until it hits the center. I made a new Joey flower this way, I will share it on the next post.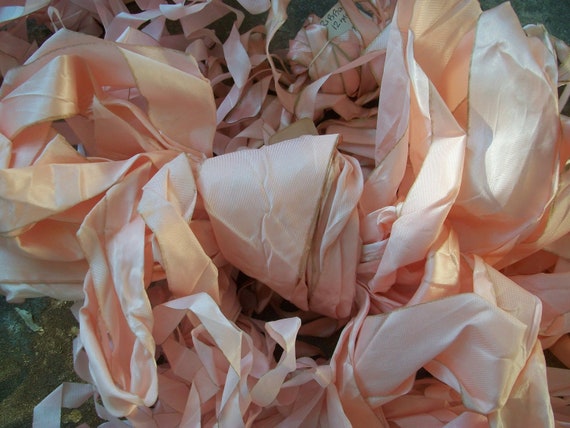 I love round pillows, I have never made one because they always seemed to take special materials that I did not have. But I found an easy way to make one with a square pillow insert. How do you take a square and make it round you say, here you go. Around the edges of the circle of your choice of fabric run a gathering stitch ( I used my sewing machine for this part but you can stitch by hand)  just like you would for a yoyo. Then I put the square insert in the huge yoyo like cover. Tucking the corners in as you go. Pull the gathering stitch until it closes and stitch closed. If the pillow needs a little shaping to make the circle round this is the time to do it.  How easy is that!  I then prepared a lovely doily with a sweet collage to fit right over the opening of the pillow. You can glue it on or stitch it in place. I glued mine.
I love the way they look with my Shabby Chic floral bedding set from Target.com.  This cover is retired now.  I just have to tell you that Rachel Ashwells bedding is super warn and very washable. I have had it for five years and it looks amazing. I also made the three square pillows, the middle pillow and the round pillow were made out of Vintage fabric.
Oh So Shabby!
I love to layer my quilts and Romantic Pillows in my bedroom it gives a beautiful effect. A little bit of color and ruffle.
Next time I will share some new Joey flower ideas that I made with this beautiful ribbon, I  made some for gifts as well as for decorating my little nest.
See you then!
xx Jo
Don't forget to join us at
Looking forward to seeing you there!
I will be at these amazing parties this week, come and join me!
Monday
Amaze Me Monday @ Dwellings-the heart of our home
The art of Homemaking Mondays @ Strangers and Pilgrims
Tuesday
The Scoop @ Cedar Hill Farm
Let's talk Vintage @ Bella Rosa Antiques
Wednesday
Vintage Inspiration Party @ My Salvaged Treasure
WOW @ Savvy Southern Style
Moonlight and Mason Jars @ Cherished Bliss
Thursday
Thoughts of Home Thursday @ Poofing the Pillows
Share Your Cup Thursday @ Have a Cup with Mrs. Olson
Share your Style @ The Essence of Home
Blog Hop @ Katherine's Corner
Vintage Charm @ Blue Willow House .com
Friday
Home Sweet Home Party @ The Charm of home
Home Matters Linky Party @ Life with Lorelai
Simply Sweet Fridays @ Rooted in Thyme
Friday's Furniture Fix @ Patina Paradise
Shabbilicious Friday @ Shabby Art Boutique
Five Star Fro Fro @ A Tray of Bliss
Feathered Nest Friday @ French Country Cottage
Saturday
Pretty Pintastic Party @ Seeking Lavender Lane
Upcycled Linky Party @ Funky Junk
Inspiration Spotlight @ Dear Creatives.com
Best of the Weekend @ Ms. Toody Goo Shoes
Share it One More Time @ Shabby Fufu
Sunday
Sunday's at Home @ Thoughts from Alice
Silver Pennies Sunday @ Silver Pennies
Submarine Sunday @ Navy Wifey Peters Aboard the USS Crafty