Are you ready for the reveal of my headboard in the master bedroom? I know I have been doing a lot of talking about this for at least 6 months.  The problem that I have had is not how to refinish the headboard or even how to pad it. It is what bed spread would look the best on it. Linen in off white, white quilted spread or an off white lace spread with lots of lacy pillows. I hate these kinds of decisions. So I'm going to let my followers help me.So for now I have a red and white quilted Laura Ashley spread, with matching scams and a white ruffled bed skirt, with white ruffled pillows. I need some advice, I'll get back to that in a minute.
This is how the Vintage headboard looked for a long time. I swore off black a long time ago and I needed to desperately get this up dated. I thought that it would be too hard to get into this small bedroom to paint it. Well it wasn't at all and I should have done it a long time ago.
Once I started painting the headboard everything seemed to just fall into place. I made 2 panels out of foam board then added some batting for comfort then covered it in a durable linen. I sanded the headboard all over. Painted 2 coats of Everlasting chalk paint by Vintage Paints. Then I used one coat of Lace chalk paint by Vintage Paints in the middle of the sections of the headboard. Then blended them together. I wanted a nice antiquity effect.I let it dry for over and hour then used a brown decorative jell and rubbed it on with a cloth into all of the cracks. Then gave it a little sanding for some distress looks. I glue gunned the 2 panels on and they adhered very well. After it dried over night, I rubbed a clear wax coat all over the wood.
You can see the great detail that the chalk paint and the jell gave to the headboard, Lots of nice chippy pieces. The picture shows that the cloth backing looks pink but it is a real pretty ivory.
I can't believe just how bright and light my basement bedroom is. It has made a huge change to the whole room.
Now for your advice: I will need you to vote for 1,2, or 3
1. 
Linen bed spread, in white.
2.
White quilted Farmhouse set.
3.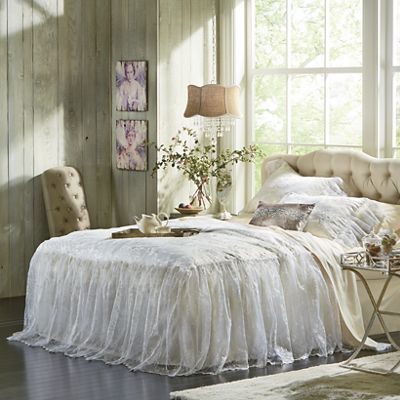 Lace quilt that puddles on the floor.
Which of these three above do you think would look great on this bed. I thought I knew what I wanted and then I had another birthday and I'll leave it from there. lol
Just leave me a comment on your preference or if you have your own ideas I would love to know, but I want to stay neutral.
Thank you for your help and have a lovely weekend.
Hugs, Jo
I will be at these amazing parties this week, come and join me!
Monday
Amaze Me Monday @ Dwellings-the heart of our home
Inspiration Monday Party @ What Meegan Makes
Make It Pretty Monday @ The Dedicated House
Show and Share @ Coastal Charm
Something to talk about @Karen's Upon the Hill
Tuesday
The Scoop @ Cedar Hill Farm
Trash to Treasures Tuesday @ Kammy's Korner
Roses of Inspiration @ The Enchanting Rose
Let's talk Vintage @ Bella Rosa Antiques
Wednesday
What's It Wednesday @ Ivy and Elephants
Vintage Inspiration Party @ My Salvaged Treasure
Thursday
Treasure Hunt Thursday @ From My Front Porch to Yours
Share Your Cup Thursday @ Have a Cup with Mrs. Olson
Share your Style @ The Essence of Home
Blog Hop @ Katherine's Corner
Idea Box @ Christmas Creations
Friday
Show and Tell Friday @ My Romantic Home
Feathered Nest Friday @ French Country Cottage
Shabbilicious Friday Link Party @ Shabby Art Boutique
Home Sweet Home Party @ The Charm of home
Anythings Blue Friday @ The Dedicated House
Saturday
Pretty Pintastic Party @ Seeking Lavender Lane
Upcycled Linky Party @ Funky Junk
Sunday
Sunday's at Home @ Thoughts from Alice
Silver Pennies Sunday @ Silver Pennies